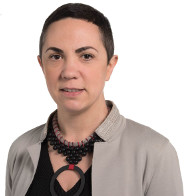 Ivana Bartoletti
Privacy and Data Protection professional, I head up the privacy & data protection Practice at Gemserv, and advise businesses and organisations on compliance with privacy legislation at UK, EU and global level. I work across all sectors, from finance to adtech, and within the energy market. I am passionate about the smart and digital economy, AI, machine learning and the Internet of Things – and speak at conference in both the UK and overseas on the challenges they bring.
I worked seven years as Information Governance Manager at the NHS Counter Fraud and Security Management. In 2012, I received the Best Personal Achievement in the Public Sector Award for introducing new policies to protect the safety of NHS staff.
International public speaker and commentator on privacy, digital rights, data ethics, the IoT and the governance of Artificial Intelligence - as well as equality and international affairs.
Co-Founder of the Women Leading in AI Network
I co-founded the Women Leading in AI Network, a lobby group of women from different backgrounds aimed to mobilise the tech industry and politics to set clear governance around AI so that it works for everyone and is constrained by our human values.
Long history as an activist and politician. At 19, was Leader of the biggest Students' Union in Italy. Went on to work with the Democrats of the Left and the Romano Prodi government, in politics at national and International levels. Was adviser to the Minister for Human Rights.
Settled in London in 2008, lives in Hackney with her husband and two children.
Links
My story in a magazine
My campaign in the Guardian