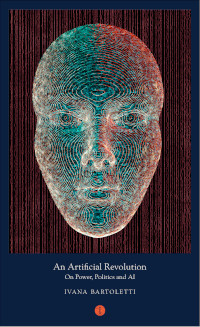 My Book
An Artificial Revolution: On Power, Politics and AI
Ivana Bartoletti
AI has unparalleled transformative potential to reshape society, our economies and our working lives, but without legal scrutiny, international oversight and public debate, we are sleepwalking into a future written by algorithms which encode racist, sexist and classist biases into our daily lives – an issue that requires systemic political and cultural change to productively address.
Bartoletti exposes the reality of the AI revolution, from the low-paid workers who toil to train algorithms to recognise cancerous polyps, to the rise of techno-racism and techno-chauvinism and the symbiotic relationship between AI and right wing populism. An Artificial Revolution is an essential primer to understand the intersection of technology and geopolitical forces shaping the future of civilisation.
Praise for An Artificial Revolution
'Bartoletti exhorts us at all times to bring our human intelligence to bear on the potentially dystopian power structures behind AI, writing with clarity, expertise and passion' – Paul Mason, author of PostCapitalism: A Guide to Our Future
'A powerful wake up call… Tech should benefit everyone and Bartoletti's book argues passionately for how it could and should improve our burning planet' – Ayesha Hazarika, broadcaster, journalist and political commentator
'Bartoletti demonstrates the potential for artificial intelligence to encode discrimination of all kinds into algorithmic patterns. Technology can improve our lives, but to harness all its positive potential, she rightly and powerfully insists on public accountability and scrutiny' – David Lammy MP
'Bartoletti's feminist gaze is sharp on male technocrats using tech tools to manipulate and persuade politically… I am still reeling from its power' – Noel Sharkey, Emeritus Professor of Artificial Intelligence and Robotics at the University of Sheffield
'Ivana powerfully exposes the reality of data discrimination and online targeting in society and the danger of AI, as a result, becoming our master not our servant. She also clearly outlines the radical changes to power structures and culture and the embedding of ethics which are necessary in finding the solution' – Lord Clement-Jones, Lib Dem spokesperson for the digital economy in the House of Lords
'An essential read. At a time when we are fighting to put our environment at the top of the political agenda, Ivana Bartoletti lucidly demonstrates how another future for our digital environment' – Mete Coban, CEO of My Life My Say
'An absorbing and thought-provoking analysis of how technology is transforming our life, and a simple message: workers are far more than something for algorithms to hire or fire. AI holds promises and can make our life better but only if we, citizens, workers and trade unions are involved in the conversation' – Frances O'Grady, General Secretary of the TUC
'A.I. is going to shake up the way we do everything. That's why Ivana Bartoletti is calling on everyone to shake up the way we think about A.I.' – Yvette Cooper MP, Chair, Home Affairs Select Committee
You can pre-order the book here.